Ivy and Bean
Written by Annie Barrows
Illustrated by Sophi Blackall
Reviewed by Sally M. (age 7)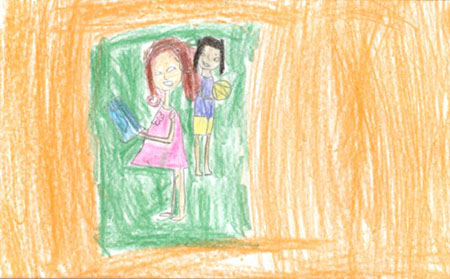 One day Bean, one of the main characters, got in trouble at school because she played a trick on her sister, Nancy. After school, Bean went to Ivy's house because she didn't want to get into trouble. Do you think Bean is going to be in trouble when she gets home? You'll have to read this book to find out.
I liked this book for many reasons. First, Ivy took Bean into her hideout when she knew she was in trouble. Also, it was interesting when the author described Ivy's room. Finally, it was cool when Bean painted Ivy's face. As you can see, this book is worth reading.
I recommend this book because it's funny, especially when Bean played the trick on Nancy. I think kids who are in Kindergarten to third grade would like this book because it's fun to read with easy words. There are not too many words in it that you won't know.