Diary of a Wimpy Kid: Rodrick Rules
Written by Jeff Kinney
Reviewed by Noah T. (age 8)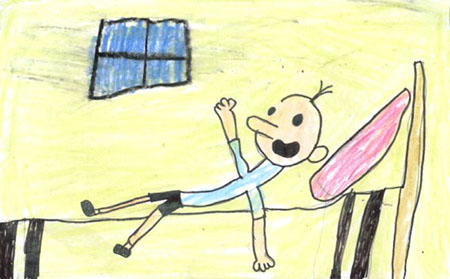 In this book, Gregory and Rodrick are finally getting along a little bit. They are pranking people. Then they prank their gym teacher. You'll have to read this book to see if they get away with it.
I give this book five stars for many reasons. First, I like this book because Rodrick gets credit from his parents but he never does anything to deserve it. Also, my favorite part was when Greg and Rodrick's little brother, Manny, draws a mean picture and their parents think it's a picture of them. Finally, I thought this was the best book because it was hilarious when Rodrick has a party and asks Gregory to get chairs from the basement, but then locks the basement door! As you can see, it's awesome!
I recommend this book because it has problems, but they turn out fine. It's also silly. There are no chapters, so it's easy to read. I think people who like funny stories would like this book because it's a good reading level for 2nd and 3rd graders who want a good laugh.