Are You Ready To Play Outside?
Written by Mo Willems
Illustrated by Mo Willems
Reviewed by Clara B. (age 8)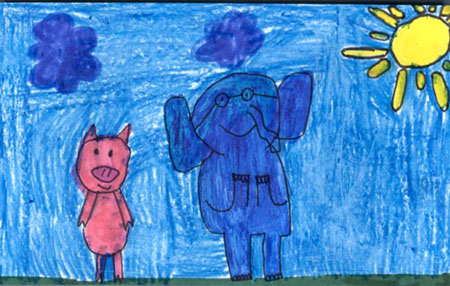 Have you met Elephant and Piggie? Oh, no? Well then you should! The book you should read is Elephant and Piggle, Are you Ready to Play Outside? by Mo Willems. O.K. So are you going to read this book? I sure hope so! Read this review to find out more.
Piggie always wanted the sun to be out when she played outside, but it starts raining. Piggie is not a happy pig! Elephant, aka Gerald, tries to do something to help. Does it work? Or does Piggie start to like the rain? Elephant tries putting his ear over Piggie, but she is still sad. Read to find out what happens!
Piggie is awesome! She is one of the main characters. Piggie loves to play with Elephant. Piggie wants to do everything, like run, skip, and jump. She is mad that it is starting to rain. Piggie yells that she hates the rain. Piggie is sooooo funny because she gets sooooo mad. The illustrations are so hilarious when Piggie gets mad!
Elephant is a great friend to Piggie. He is always making Piggie happy. He tries to cheer her up when it is raining.
My favorite part is when Piggie gets so mad because it starts raining and she yells, "I DO NOT LIKE RAIN!" It made me LOL! She looks really mad. I also love it when Piggie is so surprised when she sees the worms say, "Rain!" and "Yay!"
If you like best friends you will like Elephant and Piggie. I really think they are funny. Once you read Elephant and Piggie, Are You Ready to Play Outside, you will agree it's the best book ever! You have to go to the library and get Are You Ready To Play Outside by Mo Willems. I recommend this book to best friends all over the world!