Snowboard Duel
Written by Jake Maddox
Reviewed by Alexander G. (age 7)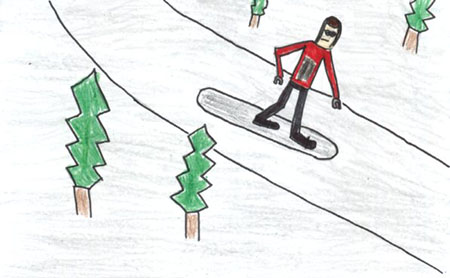 Hey! Why are you here? Oh right, to read about Snowboard Duel by Jake Maddox. No? You aren't? Well I'll convince you. Listen closely. Brian wanted his friend Hannah to join the snowboard club, but the team captain said, "No girls!" Read and find out if Hannah can get into the club.
In this book, the character Zach started a boys only snowboard club. Brian is the main character. He is trying his hardest to get Hannah into the snowboard club. Brian is torn between his friend Hannah and being part of the snowboarding club.
Brian is a great friend to Hannah. For example, he stayed in the lodge with Hannah when his friends went outside to go snowboarding. They did not invite Hannah. Brian stayed in with Hannah.
My favorite part is when Hannah is very kind to Zach. Zach hurt his ankle in the race. She gently glides down the slope with Zach leaning on her. Read and find out who wins the race and also if Hannah gets into the snowboarding club.
I also enjoyed this book because it's all about snowboarding. I want to learn how to snowboard. This book taught me that there are clubs for snowboarding.
I think Jake Maddox was so engaged in his first book that it was easy to write many more. You've got to get Snowboard Duel by Jake Maddox before it's too late. If you like sports, then prepare to sweat! If you like this book, there are many more Jake Maddox books, some even about girls. You should go get them!