Bathtime for Biscuit
Written by Alyssa Satin Capucilli
Illustrated by Pat Schories
Reviewed by Leon G. (age 8)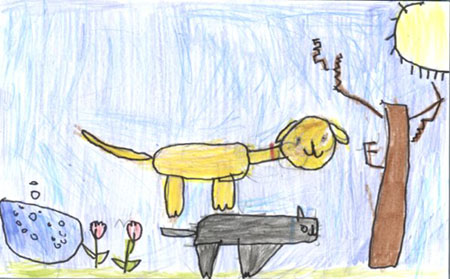 Hey kids, do you want to read a good book? Then you should read Bathtime For Biscuit. If you like dogs I think you will love it. So, get yourself over here and get comfortable with your copy of this great book.
Biscuit the dog doesn't want to take a bath. He does a lot of funny stuff in this book. For example Biscuit want to play, dig and roll. Another funny thing he does is he and his dog friend, Puddles, play in the sprinklers. They also dig in the mud. Read this book to find out all the funny things he does.
I think you will love this book as much as I did. My favorite part was when Biscuit rolls around and around. I like Biscuit because he is so cute. The pictures are realistic. They are also big and colorful.
People of all ages especially kids ages 5-7, who love dogs, will enjoy reading this book.
I give this book 5 out of 5 stars.