Listen To My Trumpet
Written by Mo Willems
Illustrated by Mo Willems
Reviewed by Lucia L. (age 7)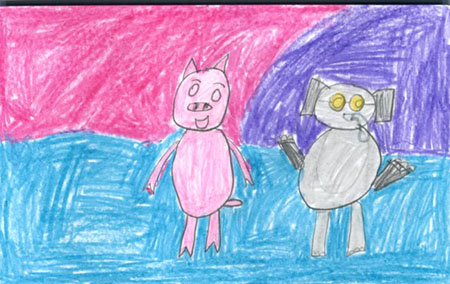 Have you ever met two funny characters in one book? No? So dive into the book, Listen to My Trumpet, by Mo Willems. You don't have to find the funny parts. They will pop right out! You will LOL just by looking at the cover. Elephant and Piggie are hilarious!
Do you want to become lost in a book? Yes? Well then Listen to My Trumpet is the book for you! In this book Piggie gets a trumpet and tells Elephant to listen. Piggie is not so good at the trumpet. Elephant tries to help. Read and find out if Piggie learns how to play the trumpet.
My favorite part is when Piggie tries to play the trumpet. All that comes out is "Dr-UMP!" Elephant says, "YIKES! That is not music!" I like the expression on both of their faces. It was funny! I also like how Elephant tries to be helpful to Piggie when he tries to play the trumpet. It makes me think of kindness. Another thing I enjoyed about this book is how Mo Willems is so creative, he tries to hide Pigeon's face in the back cover. It was fun to try to find it!
What are you doing after school? You don't know? Go get the book, Listen to My Trumpet, by Mo Willems. I recommend this book to all families and classrooms. I give this book 5 stars!