Horton Hears a Who
Written by Dr. Seuss
Illustrated by Dr. Seuss
Reviewed by Levi W. (age 8)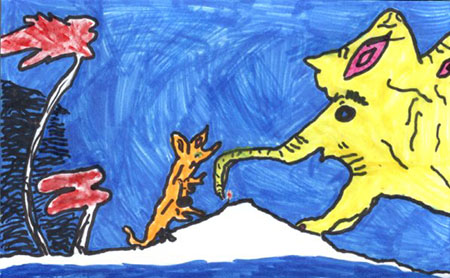 Horton is a very ordinary animal. He becomes friends with a very, very small creature who lives on a very soft clover. His friend has a voice that's small. Two kangaroos see Horton with the small friend and they started to laugh at Horton. Horton did not feel good. One day a vulture got the small creature and dropped it in a bad, bad spot. Read the book to find out what happens after that.
I think that the book had a lesson. The lesson was to treat other people the way you want to be treated. The kangaroos weren't being kind to Horton. It makes me think about people ganging up on other people. My favorite part of the book was the part when Horton meets the small animals that are known as the Whos. I liked that part because it was about kindness.
I recommend this book to people of all ages. People who like unusual books that have good messages in them will like this book. If you like Dr. Seuss books, and books with animals, then you will like this book.