Chopsticks
Written by Amy Krouse Rosenthal
Illustrated by Scott Magoon
Reviewed by Katya C. (age 7)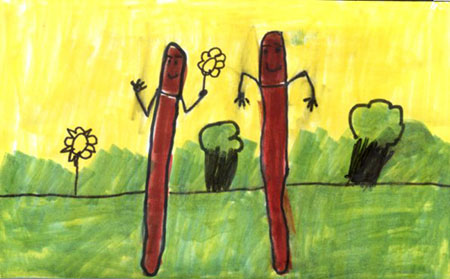 Have you ever read Chopsticks, by Amy Krouse Rosenthal? No? It is funny! Are you looking for a book that will make you LOL? This is the book! Amy Krouse Rosenthal is clever.
In this book, Chopsticks do everything together. They are best friends. One day, one chopstick got hurt! He broke his leg. He told his friend to try new things. Read and find out if they come back together as friends.
My favorite part is when the hurt chopstick tells his friend to go try new things. He says, "Go! Chop! Chop!" It was funny! I like how clever the author is. In the part when Chopstick got hurt, it says that,"Chopstick was quickly whisked away." A whisk is carrying the hurt chopstick. It is really funny when the sugar bag says, "You look sweet" to Chopstick when he's dressed up. This part makes me giggle! I especially like the lesson in this book. Whoever you are, it's best to be who you are.
If you read, Chopsticks, by Amy Krouse Rosenthal, you will love it SO MUCH! I recommend this book to kids of all ages. I give this book five stars.