Teach Us, Amelia Bedelia
Written by Peggy Parish
Illustrated by Lynn Sweat
Reviewed by Aubrey F. (age 7)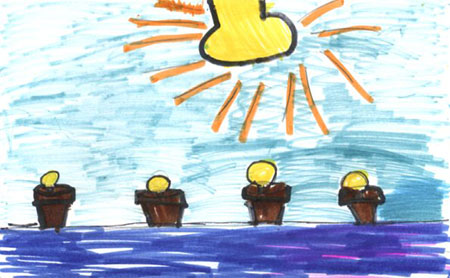 Teach Us, Amelia Bedelia is a very funny book about a girl named Amelia Bedelia who works for Mr. and Mrs. Rogers. Mrs. Rogers asks Amelia to go to the school and tell the principal (Mr. Carter) that the new teacher's plane is late. Amelia goes and takes the new teacher's place. She gets in a lot of trouble. For example, she painted pictures in the hallway when she was supposed to paint her own picture. Read this book to find out what other mistakes Amelia made.
I like this book because it's really very funny. I liked it when Amelia planted the light bulbs in the ground, and when she painted the pictures in the hallway. I like Amelia because she is really funny. I wonder if Amelia ever teaches the children again.
I recommend this book for kindergarten students and up. It is a very good book because it is so funny. Read to find out how funny it is.