Eloise
Written by Ruth Thomson
Illustrated by Hilary Knight
Reviewed by Anna L. (age 8)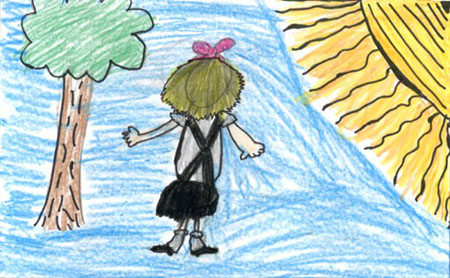 This book is a fiction book about a six-year-old girl. She is pretty funny! Her name is Eloise. She has a dog named Weenie, a bird named Emily, and a turtle named Skipperdee. This little girl goes on some interesting adventures. Each book is a new adventure! Read this book to find out her new adventures.
I love this book because it has a song in it that I think is really funny. The whole book was funny too because Eloise seems like a wacky and unusual little girl. I wonder what it would be like to live with or even be Eloise herself. When I read the book, it made me feel silly. I think it's cool that she lives at the Plaza in New York City. In the story, Eloise says that sometimes she just stares at the ceiling and tries to think of a way to get a present. I think that part was funny.
I think you should definitely read this book. I recommend this book for kindergarteners to third graders. I also recommend it to people who like funny characters or for somebody who gets silly without even knowing it. You would love it!