Judy Moody Goes to College
Written by Megan McDonald
Illustrated by Peter H. Reynolds
Reviewed by JosEllen T. (age 9)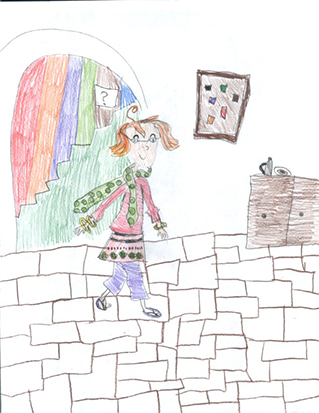 The main champion, Judy is NOT doing good in math. Her parents decide to send her to a tutor. Well, that probably means baby flash cards, right? No way! Her tutor is actually great! Her name is Chloe and she is so cool! She tutors Judy at college. Judy's little brother,Stink is what Judy calls a stink bug. Her teacher is Mr. Todd, who is nice(really nice). Frank Pearl and Rocky are her two best friends. Read on to see if Judy passes math!
I understand how Judy felt when she struggled with math. I sometimes struggle in math too. It can be hard. Her having a tutor reminds me of a book about a rat who had a tutor for music. She was like Judy. She hated to practice, but she loved to play music. My favorite part is when Judy heard that college students ' wear their own thing'. The next day she came to school wearing a tee shirt , shorts, sandals, a scarf, sunglasses and a floppy hat (it was winter!).
I would recommend this book to any body who likes funny books. This book is hilarious! Judy has a lot of different moods. If you're 'moody' like Judy, this book is definitely for you!