Melvin Beederman
Written by Greg Trine
Reviewed by Zachary S. (age 9)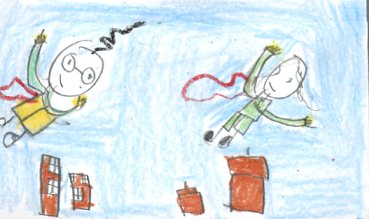 Have you ever seen people fly? Melvin is a superhero who can fly. This book tells how superheroes save people, stop bad guys, stop trains and help the world. Candace is Beederman's helper who helps people, flies, and keeps a look-out on the bad guys. I like Melvin because he can fly and he always escapes if he's in trouble.
I love this book because it's about superheroes and saving people from getting hurt. It's surprising because you don't know when the trouble gets in or when the funny things start to happen. My favorite part is when Melvin and Candace pick the bad guys up when they try to escape from the super heroes and they never get hurt and they are always kind and happy to everyone. They always get into trouble. You will be happy at the end, so be sure to read the whole book.
I recommend this to Third Graders who like fiction because this book is fiction. Fiction is sometimes silly or funny. You will like the book when you start reading it and it's a great book.