Judy and Stink, The Holly Joliday
Written by Megan McDonald
Illustrated by Peter Reynolds
Reviewed by Lena E. (age 8)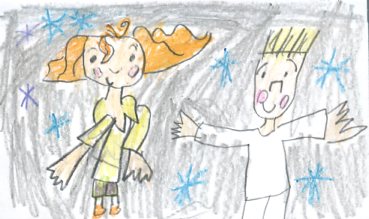 Have you ever wished for snow? In a country or state that is too hot to snow, of course. Well, read this book called Judy Moody Holly Joliday. It is a book that is worth the money. In it, Stink wishes for snow and a miracle happens. but it is a surprise. It will make you smile so much.
My favorite part is when Cookie, the parrot, started singing different songs. It was really funny and it made me laugh. I think the book will make you laugh, too. Another one of my favorite parts is when Stink dressed up as a snow flake instead of being a mouse. It was very funny. I think it was great how he decided to do that all on his own. It was very creative of him to be something else. I guess he figured no one would notice.
I would recommend this book to people who like Christmas and humor and of course Judy Moody.