The Great Fuzz Frenzy
Written by Susan Stevens-Crummel
Illustrated by Janet Stevens
Reviewed by Joshua T (age 8)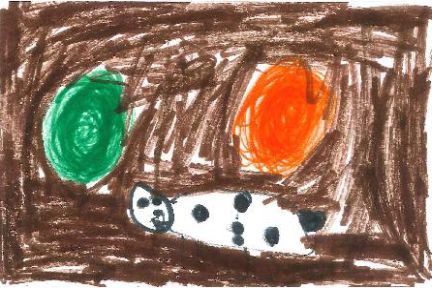 The prairie dogs found a tennis ball that fell down their hole. They picked it and pulled it and puffed the fuzz. They also tugged and stretched it. They were playing with the fuzz. They made clothes out of the fuzz. They made slippers out of the fuzz. They let other prairie dogs come into their tunnel to play with the fuzz until the fuzz ran out. And a great fuzz war began until they were tired out and they were fast asleep. They woke up again and someone stole the fuzz. Then Big Bark said that he stole all the fuzz. Everyone froze for a second and they ran up to Big Bark. Then an Eagle took Big Bark with all the fuzz. Big Bark wiggled free without the fuzz. The Eagle took all the fuzz. Every prairie dog caught Big Bark after he fell. They put Big Bark's hat on and the Eagle took all the fuzz and made into hair. All the prairie dogs went back in the tunnel. Then Violet the dog has an orange tennis ball with orange fuzz and she showed it to the prairie dogs.
My opinion is that it was funny because the prairie dogs were fighting over the fuzz. It made me feel happy because my dog plays with tennis balls and he takes all the fuzz off. When we play with the stuffed football and there's fuzz in it, he rips off the skin and he takes out all the fuzz. I liked Pip Squeak because he's very nice and helped Big Bark after he fell from the eagle. I hated Big Bark because he was very mean so I liked when the eagle took him.
I recommend this book to my friends who have dogs because Violet would remind them of their dogs. My family will like this because I have a dog named Bandit. His name is Bandit because he looks like a bandit because of his black spots on his back and eyes. I would also recommend this book to people who like animals. They would like it because prairie dogs are the cutest and can be pets, too. I would also recommend this book to people who like funny stories because this book is funny.