Those Darn Squirrels Fly South
Written by Adam Rubin
Illustrated by Daniel Salmieri
Reviewed by Joshua S. (age 8)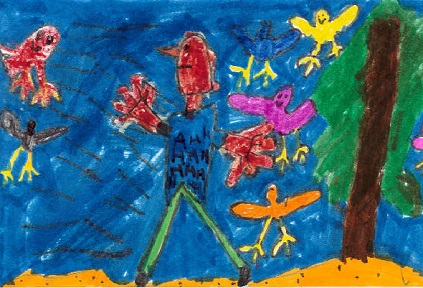 Do you like funny characters? If you do, you should read Those Darn Squirrels Fly South. In this story the squirrels wanted to know where the birds fly during the winter so the squirrels made gliders and flew to Santa Vaca. Then there was a chattering on the line and Old Man Fookwire yelled, "THOSE DARN SQUIRRELS!" The squirrels wanted Old Man Fookwire to come to Santa Vaca. So, Old Man Fookwire got his car and drove all the way to Santa Vaca only going 12 miles per hour so the people behind him had plenty of time to admire his car! When Old Man Fookwire got to Santa Vaca, he set up his paints and painted. It was so hot that he sweated, he sweltered, he…PASSED OUT! Old Man Fookwire was as red as a Bonga bird! Then Old Man Fookwire went home. But, what was it like when Old Man Fookwire went home?
My favorite part was when Old Man Fookwire passed out! I liked this part because Old Man Squirrels and the Cat Next Door. My favorite character is Old Man Fookwire because he loves to paint. Old Man Fookwire's favorite thing to do is to have some cottage cheese and pepper then paint for hours and hours!
I recommend this book to people who like funny adventures, funny characters, and funny words. One funny part is when Old Man Fookwire yells, "Those Darn Squirrel" into the phone. I think the funniest characters are the squirrels because they make weird things that are funny!