The War with Grandpa
Written by Robert Kimmel Smith
Illustrated by Richard Lauter
Reviewed by Stone P. (age 8)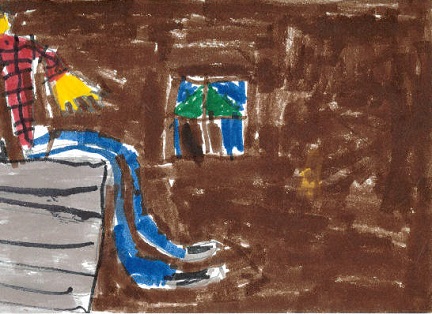 Do you like funny books? If so, you should read The War with Grandpa! It is a really funny book. Peter, the main character, enjoys his room and is excited because Grandpa is moving in. He can't wait for Grandpa to move in until…he does! He moves right into Peter's room! And Peter is forced upstairs to the guest room. Peter is so mad because he grew up in that room. Peter declared war! Read this book to see what happens.
I like this book because of all the funny tricks Peter pulls on Grandpa and the tricks Grandpa pulls on Peter. My favorite part was when Grandpa put all of Peter's school stuff in suitcases and moved all of Peter's clothes to different places. Grandpa put Peter's underwear in the closet and his shoelaces in the kitchen. Peter was sooooo late for school! My favorite character was Grandpa because he pulled so many funny tricks. This story reminds me of the tricks I pull on my brother and sister, like how I take the game disc and put it away so my brother can't find it.
If you like war stories, you will love this book. It's like a trickster war! You will especially like this book if you are in first grade and up.