Tigers
Written by Jan Pfloog
Illustrated by Jan Pfloog
Reviewed by MaKayla K. (age 7)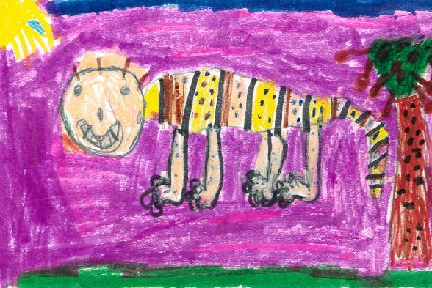 Do you like reading Laura Marsh books? They are good books and Laura Marsh writes a lot of books. The book I am telling you about is Tigers. You can learn a lot when you read this book! White tigers live in books because they are rare and sometimes people want to hurt them. Tigers are dangerous because they have claws and sharp teeth. Tigers have to have a lot of meat because they are meat eaters. Tigers also love to swim. You can learn all this and even more when you read this book!
I think Laura Marsh includes good details in her books and she includes good jokes. My favorite part is the front cover. The author put a photograph of tigers on it and the font is big bubble letters. The lesson is this book is about tigers. It was good because it is teaching me what tigers do!
If you like informational books, you should read Tigers. I think second and third graders will like this book because it is teaching you about tigers. I also think that this book would be a good book for teachers or parents to read aloud. I hope you enjoy this book!