The Pout Pout Fish Goes to School
Written by Deborah Diesen
Illustrated by Dan Hanna
Reviewed by Zoie K. (age 7)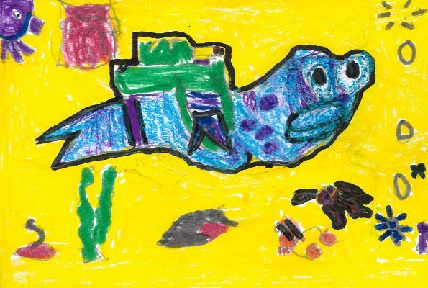 You should read The Pout Pout Fish Goes to School. The Pout Pout Fish tries to find his class in a half ship called S.S. Rock Bottom Elementary School. There are other fish in classes. The Pout Pout Fish went in a lot of classes like writing and math. Will the Pout Pout Fish ever find his class? Read the book to find out!
I think the Pout Pout Fish is really funny because he runs all around the school. He tries his best to find his class. A connection I made to the book is that Pout Pout Fish is shy and I'm kind of shy, too. One thing this book makes me wonder is if people in other countries are shy to go to America. It makes me think about this because Pout Pout Fish is shy.
If you like going to school on your first day and getting lost, you will meet new friends on your way. The Pout Pout Fish did this! I think that kindergarten through fifth grade will like this book. If I were you, I would get the book now!