The Berenstain Bears and Too Much TV
Written by Stan & Jan Berenstain
Illustrated by Stan and Jan Berenstain
Reviewed by Ben B. (age 7)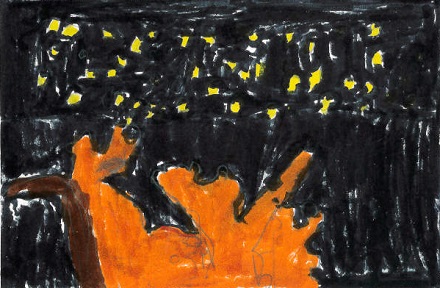 Do you like books where stuff that's unexpected always happens? In Too Much T.V. brother and sister bear run home from school every day, grab their afterschool snack, and sit in front of the T.V. Their mom said, "No T.V. for a week." Instead, they go to the store, buy toys, and ride bikes. At the end of the week, the kids sort of tell a good lie. Read the book to find out the good live and every funny part in between.
I think Too Much T.V. is one of the funniest books I have read. I think the illustrations look nice because everything looks realistic and the colors look nice in the pictures. Too Much T.V. is the same as the rest of the Berenstain Bears books because it has the same characters as the other books. They all focus on the Berenstain bears. The lesson I got out of Too Much T.V. is is have fun with real life, just watch T.V. every once in a while.
If you like books where the same thing totally repeats, I recommend Too Much T.V. Readers in the range of first through fourth graders or people who like the Berenstain bears will love this book.