The Day Jimmy's Boa Ate The Wash
Written by Trinka Hakes Noble
Illustrated by Steven Kellogg
Reviewed by Eric D. (age 9)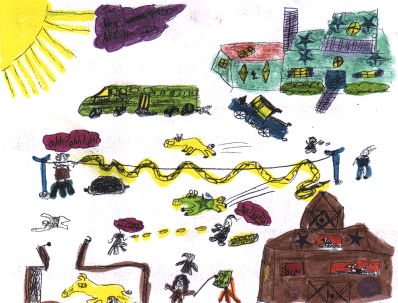 Jimmy took a boa constrictor on his field trip to the farm. The chickens went crazy and one laid an egg that landed on someone's head. Then everyone was throwing eggs. They were out of eggs so they threw corn at each other. The boa constrictor ate the farmer's clothes. Jimmy left his boa constrictor at the farm. So now he has a new pet. Read to find out what Jimmy's new pet is. The author's message is not to bring a snake to a farm.
My favorite character was Jimmy's snake. It ate the farmer's clothes one by one. I feel bad for the chickens because the children were taking their eggs. It was very rude of them.
I think you should read this book because it teaches you what not to do on a field trip.