The BFG
Written by Roald Dahl
Illustrated by Quentin Blake
Reviewed by Paula G. (age 8)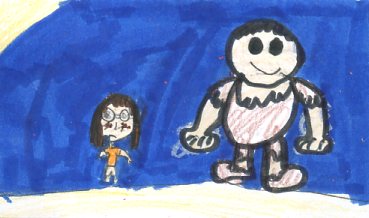 Have you been learning about Giants? Grab this book! The BFG is a book about a girl named Sophie that has been taken by the BFG. Sophie was sleeping one night and a giant came along and Sophie was scared. The giant took Sophie to a cave and Sophie cannot escape. If Sophie tries to run away, the other giants will capture Sophie and eat her! Sophie needs to get out of the cave away from the giants to go back home. Sophie needs to escape quickly too!
I'm Paula and my favorite part was when the BFG was pronouncing words wrong because it sounds weird and funny. I like this book because I'm interested in Roald Dahl's books and when I read the first chapter, this book hooked me a lot! I already finished the book and I really want to read it again and again! This book is my favorite Roald Dahl book! There is a lot of action in this book. Another reason I like this book is the characters all have interesting traits like either polite or super funny!
I would recommend this to my class because I think people in my class are interested into Giants like this giant in the BFG! I would recommend this to my school too because I'm thinking that the whole entire school would like this book and maybe likes friendly giants too! Maybe this whole entire state would like it too because lots of American scientists are maybe researching about giants and other different kinds of giants too!