The Cat Ate My Gymsuit
Written by Paula Danziger
Reviewed by Claire H. (age 12)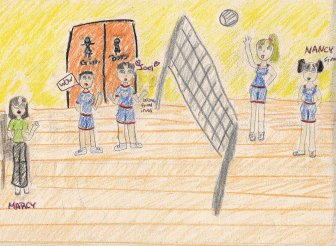 Have you ever said something silly to get out of doing something? "The cat ate my gymsuit," is the line that Marcy Lewis uses so she doesn't have to go to gym class.
The story is about a chubby girl who is unpopular and does not have many friends. She didn't like going home because her mother and father were always fighting. She even hated going to school until a teacher helped her.
The main character, Marcy Lewis, reminds me of "me" because she hates gym like I do. In the book Marcy changes because her teacher, Ms. Finney, helped her talk about her problems. I like the way that Paula Danziger writes. Her vocabulary is very up to date so I enjoy reading her books. Sometimes, I have to look up adult words in the dictionary. I like that.
I think that seventh grade girls who have a nice teacher like Ms Finney would love to read this book. She has to stand up for her rights and for the rights of her students. Maybe, when you read this book you will stand up for your rights, too.