Bailey School Kids: Werewolves Don't Go to Summer Camp
Written by Debbie and Marcia Thorton Jones Dadey
Reviewed by Emily A. (age 9)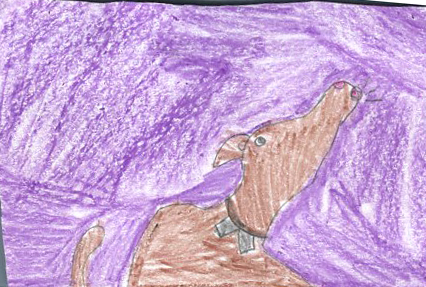 I am reviewing The Bailey School kids Werewolfs don't go to Summer camp by Debby Dadey and Marcia Thornton Jones. This book is about four kids, Liza, Howie, Melodie, and Eddie. They go to a spooky summer camp. They think it is home to a werewolf! They try to find out if there really is a werewolf lurking around camp disguised as a person. No one knows if they are right or wrong. Then they try to get rid of it. They go on a night hike with everyone. They think their counselor is the werewolf. They try getting rid of it with mistletoe. They hear a howl, then you`ll have to read to find out if he really is a werewolf.
In my opinion, the book Bailey School Kids Werewolfs Don't go to Summer Camp is a suspenseful and scary book. I like it because Liza saw a strange thing outside. She said "I saw the lone wolf. And it was wearing dog tags!" That was a scary part to read. Secondly, the counselor told them "anyone who doesn't want to hear their cabin assignment can sleep outside with the wolves!" That was suspenseful because I thought that the campers weren't going to listen. Finally, at the end of the book, Liza yelled, "it's a werewolf, run for your lives!" I didn't know if that was true so I wanted to keep reading.
I would recommend this book to kids 8 – 11. And to kids who like scary books.