The Zack Files: My Teacher Ate My Homework
Written by Dan Greenburg
Illustrated by Jack E. Davis
Reviewed by Sylvie C. (age 7)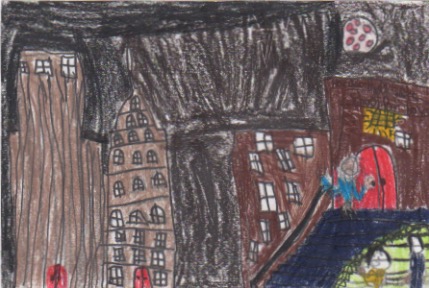 A boy named Zack goes to Horace Hyde White School for Boys in NYC (New York City). His parents are divorced and he spends half of his time with each of them. It's when he's with his dad that weird things happen. He has a teacher named Ms. Coleman Levin. Zack hands his homework to his substitute and she gobbled it up! His substitute teacher is named Ms. Wolfowitz. Zack thinks she is hairy for a lady. Is she just hairy and likes to eat paper or is she a werewolf? Zack has a friend named Spencer Sharp. Spencer has a camcorder. They use the camcorder as part of their plan. Spencer and Zack catch the teacher! Will they be able to find out if the substitute is a werewolf? You'll just have to read the story to find out!
I think that this book is cool because it has Ms. Coleman Levin and Zack. Zack is the one that the weird stuff happens to. I don't like Vernon because he brags that his parents are rich. He also doesn't keep promises. I loved that the book had a part where the substitute hunches her back when she walks. On a scale of 1 – 10, I would say it is a 9 because you can read it again and again and never get bored. My favorite part was when Ms. Coleman Levin, Zack, and Spencer catch the teacher by using a cup of powdered garlic, wolfs bane, deadly nightshade and catnip. Who else is as smart as that?! My second favorite part was when Zack reached for the tiny piece of homework in Ms. Wolfowitz's mouth and she almost bit his finger off!
I would recommend this book to kids who love a combination of funny and scary stories. I think it would be best for kids in first or second grade. Dan Greenberg is a great writer because he writes in a very detailed way. I recommend this book to you. Zack does too!