Young Cam Jansen and the Magic Bird Mystery
Written by David A. Adler
Illustrated by Susanna Natti
Reviewed by Sami V. (age 7)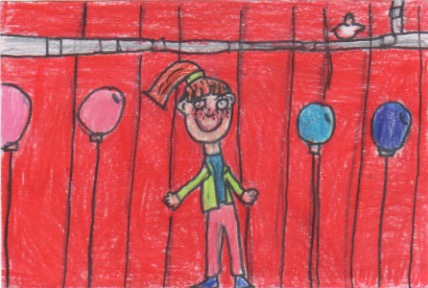 This story is about a girl named Jennifer, but because of her great memory they started to call her "The Camera." Then it just became, "Cam." This story takes place in a toy store called Teddy's Toys. There is a guy named Teddy (that's why it's called Teddy's Toys) and he is a magician and he did a magic show. Cam went with her Aunt Molly and her friend, Eric. Her Aunt Molly knew Teddy so they went to the magic show. He did magic with a bird. After they stayed so Aunt Molly can say "hi" to Teddy. When the magic show and the tricks were over, the bird goes in a table with doors. It goes in one of the doors. Teddy looked in the door that it usually goes in and it disappeared! He was shocked! Will they find it? You will just have to read the book to find out.
My favorite part was when he did the bird trick. He put the hat on the table and pulled out a bird named Oscar! My favorite character in the book was Cam because she is a nice friend and has a great personality. She is always very excited when there is a mystery to be solved. Her mind is so cool. If she was real, I would say she should win a prize for having the best memory in the whole world. If anyone would choose their favorite character in the book, I think almost everyone would choose the star of the book, Cam Jansen. She helps solve a lot of mysteries. On a scale of 1 – 10, I would choose a 10 because it had a lot of details. The details in this book were really descriptive and truly told the story about the magic show. I think it was really cool that Cam got to meet the magician. The book reminds me of when I go to magic shows, but I never saw a magician pull out a plane ticket to Paris or pull out a one hundred dollar bill from someone's ear. I really like reading the Cam Jansen series including Young Cam Jansen. Cam Jansen books are the best of the best. That's my opinion!
I recommend this book to first, second and third graders because Cam is very mysterious in all of her mysteries. If you like mysteries and you are mysterious, it will connect with your life and you might really like this book.