Magic Tree House - Pirates Past Noon
Written by Mary Pope Osborne
Reviewed by Priya S. (age 7)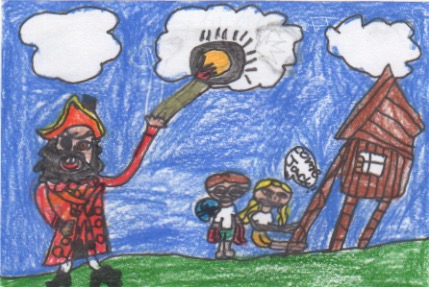 Ever like to time travel? Pirates Past Noon is about a boy named Jack who is 8 years old and his sister Annie is 7. They discovered that there was a treehouse in the woods. They found out that the treehouse was full of books. If they took a book off one of the shelves and opened it to a page, all they needed to do to get to that place was say, "I wish I could go there," and…zap! They are there. In book #4, Jack and Annie travel to the time of the pirates. They meet a pirate named Cap'n Bones. Cap'n Bones and his crew steal Jack and Annie's treasure for a mystery magic person. Will they get their treasure back? Will they find out who the magic person is? Find out when you read the book!
This book reminds me of Afternoon on the Amazon because both books are like "Oh my gosh, I'm so scared" and then "miracle." My favorite part was when Jack and Annie found out who the magical person is. Her name is Morgan. That's why there is a carved M on the bottom of the tree house floor. I thought that the illustrator's drawing style was very realistic. Also, I can't even draw that realistically. On a scale of 1 – 10, I would rate this book a 9 because I really imagined I was with mean pirates. At one point, my face dropped. It wasn't really interesting when they put Jack and Annie in a cage. That part was just about what they did in a cage and it went on for a whole chapter. That's why I rated the book a 9.
I recommend this book to people who like surprises and magic and mysteries because this story includes all of those things. I would also recommend this book to boys and girls who love inspiration because this book is very inspirational. I think many people would like this book and love it for a long time and make it their favorite.