Henry and Mudge in the Sparkle Days
Written by Cynthia Rylant
Illustrated by Suçie Stevenson
Reviewed by Emma K. (age 8)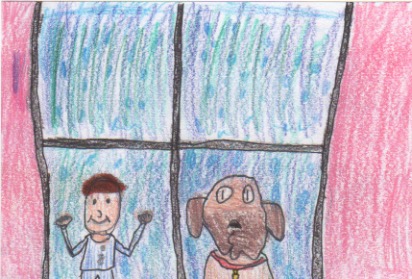 It was winter and Henry and Mudge loved to play in the snow. Henry and Mudge were still waiting for the first little drop of snow to fall. They looked out the window every night. Then one morning Henry and Mudge looked out the window and it was snowing! They played and played in the snow. Then they went inside to dry off. The next day it was Christmas Eve dinner. Henry and Mudge helped make dinner. They made all different kinds of food. Henry and Mudge have never been so fancy before. Mudge was pounding on the door because he was not allowed to be at the dinner table. Henry's dad had an idea that might help Mudge. What do you think it was?
My favorite part about the book is the end because it calms you down. I like Mudge and Henry because reading about them reminds me of when I am with my grandma's dogs. I also like when Henry and Mudge look out the window because they keep looking out the window and one day it is finally snowing! This book reminds me of my friend because she does not like dogs and there is a dog in the book. On a scale from 1 – 10, I give this book a 10 because the book makes you relaxed and calm. I would like to learn how to draw a dog because I really want to learn how to make it better than I do now.
I recommend this book for first graders, second graders and third graders. I also recommend this book for you if you like fiction books. If you like dogs or have a dog, you might want to read this book too. If you read this book, I think you will like it. If you like playing in the snow, I think you will like this book too.