The Zack Files - Never Trust a Cat Who Wears Earrings
Written by Dan Greenburg
Reviewed by B.O. (age 8)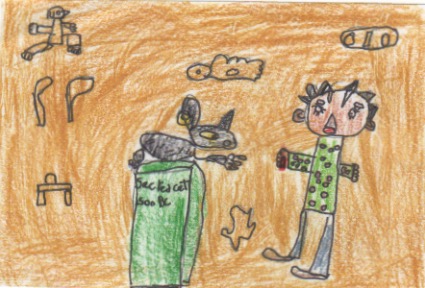 Zack goes to the museum on a field trip. A woman prays to a cat statue that has an earring in its right ear. Then Zack asks if she is alright, but she keeps praying. After the cat statue comes alive. The cat scratches Zack. Zack's scratch turns him into a cat. Then Zack calls his grandpa. The reason he called his grandpa is because his grandpa turned into a cat. He thinks his grandpa will know how to turn him back because his grandpa knows about turning into a cat so he might know how to turn a cat back into a human. Read the book to find out more.
In my opinion, this book was funny. For example, when Zack is acting like a cat and when Zack looks like a cat he even has whiskers. My favorite characters are Zack and Spencer because when Zack got scratched, Spencer tries to look up what happened in books and computers and see why Zack turned into a cat. The illustrator makes Zack and all the other characters look realistic. I wonder if the place with the cat statue is in a museum here in NYC today.
I recommend this book to kids who read Zack Files because I think the funniest things happen in this book. I also recommend this book to kids who like funny books. The book is funny when Zack is a cat. You should read the other books in the Zack Files series too, but I like this one best. This is also one of my favorite series. Happy reading!