The Outside Dog
Written by Charlote Pomeranz
Illustrated by Jennifer Plecas
Reviewed by Kaylie B. (age 8)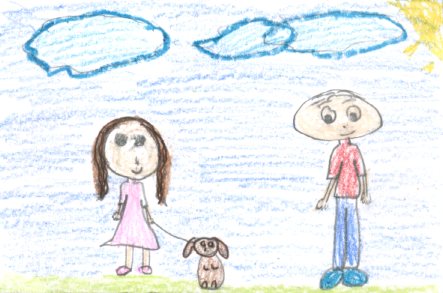 Marisol is a little girl that that lives with her grandfather in Puerto Rico. She always wanted a dog. She meets this mutt named Pancho. Pancho runs away and Marisol has to find him. Grandfather doesn't want a dog in the house. Read to find out what happens in this story.
I like the part when Marisol and her abuelito meet Pancho and the other dogs because it was funny. Marisol did not expect to see all these dogs in her backyard. I also like when they found Pancho because it is was a happy moment. They were meant to be together. Another interesting part was that Pancho wanted to stay with the family and the other dogs ran away. He loved this family. He was a smart dog!
I recommend this book to people that like dogs. I would give this book 10 out of 10. I have a cat that is always in my backyard I named him Cookie My dad and I got food for cookie but he never comes any more. I was a little sad. I recommend this book to my friends Ella, Taylor and Sofia because they love dogs. I also recommend this book to Mrs.Ragasta because it is a cute book . I recommend this book to everybody because it's an awesome book.