Hansel and Gretel
Written by James Marshall
Illustrated by James Marshall
Reviewed by Amelia P. (age 5)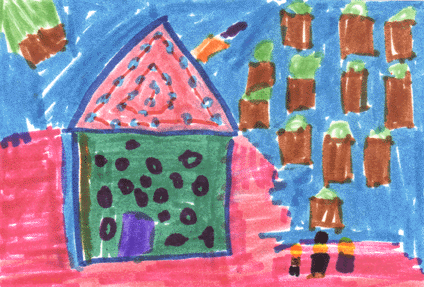 This book is about Hansel, Gretel, their kitty, their family and a witch. The lesson I learned from this book is that there are no real witches in this land anymore, except on Halloween. I learned that this witch does not have a good mind because even though she has bad eyesight, she thinks she does not need glasses.
My favorite part of the book was the part where the witch's shoes fall off. I liked the pictures especially because the kitty was on almost every page. The witch was my favorite character because the artist drew her with a little bit of hair and a head full of bows. The witch also says my favorite quote,
"Nibble, nibble, little mousie Who's that nibbling on my housie?"
I felt good reading this book because the witch dies. The step-mother made me feel bad because I do not like mean people.
I really want everyone to read this book because everyone must like witches. Boys will especially like this book because if they like monsters, they will like witches and this book.
(This review was dictated to an adult.)