My Rotten Red Headed Older Brother
Written by Patricia Polacco
Reviewed by Natalia S. (age 8)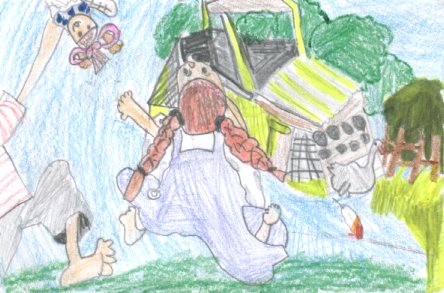 Did you ever make a wish but it came true in a crazy way? In the book My Rotten Red Headed Older Brother it happened. When Patricia was a little girl, she had an older brother named Richie. He said he could do everything better than Patricia, and he could. He could climb the highest, get the dirtiest, burp the loudest, sit the longest, and spit the farthest. One day, Patricia had a plan and she asked Richie, "Do you like rhubarb?" "No, it's the sourest stuff in the planet!" replied Richie. Patricia wanted to challenge Richie, "I bet I can eat more rhubarb than you can!" Richie accepted the challenge. Patricia already stopped eating while Richie kept on going! "I don't like rhubarb, I LOVE rhubarb!" That night, Patricia was lying down with her babushka. They saw a shooting star and Patricia's babushka spit between her two fingers, and slapped her chest. "Why did you do that, Bubby?" Patricia asked "Because if you wish on a shooting star, it will come true." replied babushka. Patricia waited all night until she found a shooting star. And then, she found one and she spit between her two fingers twice, slapped her chest and wished, she wished she could do something better than her rotten red headed older brother. Read this book if you're curious of what happens next.
I like this book because I can relate to it. I have two really rotten brothers. My favorite part is at the end when Patricia's and Richie's relationship changes. I can relate to that part because my brothers and I are trying to be nicer to each other and me. I also like this book because Richie is very silly in the book. Those are some reasons why I like this book.
I recommend this book to people that have challenging siblings. I also recommend this book to parents to read it as a bedtime story to their children. This book may have a few hard words so I recommend this book ages 7-12. I give this book ten out of ten stars, and I hope you do, too!