The Boxcar Children and the Yellow House Mystery
Written by Gertrude Chandler Warner
Reviewed by Elena G (age 8)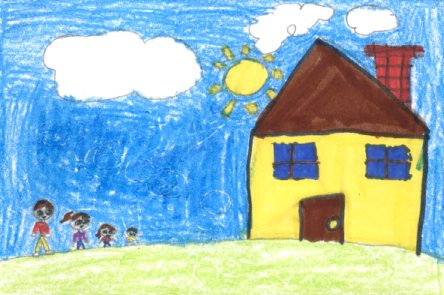 Have you ever had a strange feeling about a house? If you have, you should read this book. This book is about four children who want to solve a mystery about a yellow house and the house owner Bill. The children's names are Henry, Jessie, Violet and Benny. They are going to solve the mystery with cousin, Joe and his new wife, Alice. They will meet many people on their journey to find Bill and to solve the yellow house mystery. In this book the children travel a long way through towns, a lake, and a forest to find Bill. Read the book find out how they solve this mystery.
I like this book because it is suspenseful. You never know what is going to happen next. My favorite part is when they solve the mystery of the yellow house because it is finally solved. I also like this book because kids are the ones that solve the mystery. Another favorite part is when they meet a Native American named Rita, who helps them find Bill. She is a nice and helpful person!
I would recommend this book to people who like mysteries and to people who like the Boxcar Children Series. I think this book is good for kids ages 7-11. This book is good for kids who love to read. I highly recommend this book to families for a read aloud.