Thunder Cake
Written by Patricia Polacco
Illustrated by Patricia Polacco
Reviewed by Ethan G. (age 8)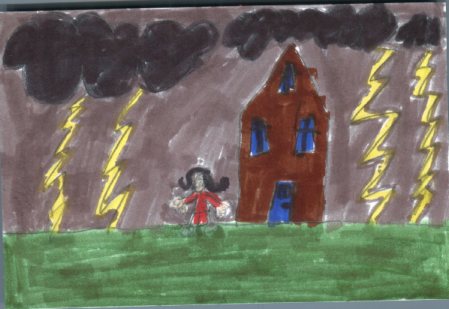 In Michigan, Patricia's Grandma makes a Thunder cake. It is raining so this is perfect weather for a Thunder cake. Patricia has to get all of the ingredients. Patricia is scared of thunder so how would she get all of the ingredients? You should read the book to find out because it will show you what Patricia does. Will she go get the ingredients or will she hide under the bed?
If you read this book, you will be very happy and you could read it every night. I used to be afraid of thunder just like Patricia, but now I am not afraid anymore. I like a lot of Patricia Polacco books and I like this one the best. The illustrations are really cool. You should check out the book in your nearest library. If you liked the book you should buy the book at your nearest store and if you get the book and you read it every night it would make me very happy.
Patricia's books are picture books and some are easy to read and others are more difficult. Some of Patricia's books make my teacher cry because some of them are sad. I recommend this book to people who are scared of thunder because it shows you how to overcome your fear of thunder. I love this book because it has cakes. Who doesn't eat cakes? I think it is a wonderful book to read because Patricia Polacco is an awesome author and Patricia makes many books and everybody loves them. I would give this book 10 out of 10 thunder cakes.