Country Angel Christmas
Written by Tomie de Paola
Reviewed by Blerta L. (age 8)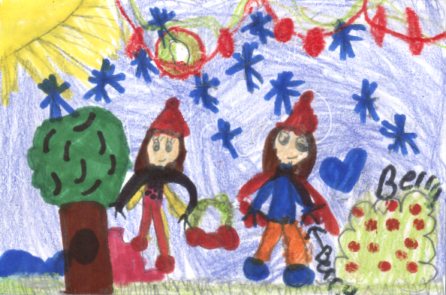 Country Angel Christmas is a really good book because it has lots of details in the story and great drawings as well. Santa wants the Country Angels to be part of the Christmas celebration. He tries to include the angels by telling them decorate at the party. They used their own style to decorate! Read this book to find out to see how the celebration turns out and if everyone liked what the angels did.
I like this book because they had a Christmas celebration which was a beautiful. The illustrations were very pretty. There is a great ending to the story. I also like this book because Ari Pip and Kira gave up on trying to help. Then Santa came in and gave them an idea. I think this book is amazing because it is a special book.
I recommend this book for someone who likes Christmas stories. The lesson of the story is to always let someone help you. The other lesson of the story is that it does not matter if you are really young, you can be helpful! You should read this because it is a fun book and easy to read. I give this book ten thumbs up!