The Jolly Christmas Postman
Written by Jane and Allan Ahlberg
Illustrated by Janet and Allan Ahlberg
Reviewed by Taylor G. (age 8)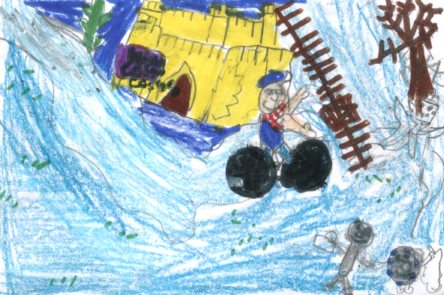 "Well fancy that. Now we've got one for you," said Santa. The book the Jolly Christmas Postman is a book about a Postman who delivers postcards to The Four Bears, Red Riding Hood, Humpty Dumpty, The Ginger Bread Boy, The Big Bad Wolf, and of course Santa Claus. The book the Jolly Christmas Postman has lots of details. It is a fun book because all the characters are all from a fairy tale or book. This book is one of those books that give you holiday cheer.
I like this book the Jolly Christmas Postman because it has beautiful pictures. I also love this book because I really think Christmas the best holiday. This book is fun to read because it makes you feel what the characters are feeling, especially, when they get their cards from the mail.
I recommend this book to people that like holiday books that are fun and easy books. This book would be good for young kids and a family member to read together Any people that like this book review should read the book. I recommend this book to all the kids who like fairytales that are good, detailed books. This is a good book for K and 5th. Maybe you may have read some books by Janet & Allan Ahlberg. Well, if you did and you liked it, then I highly recommend this book to you. This book is a book for you. I give this book ten stars.