Third Grade Detectives #1 The CLue of the Left-Handed Envelope
Written by George E. Stanley
Illustrated by Salvatore Murdocca
Reviewed by Henna W. (age 8)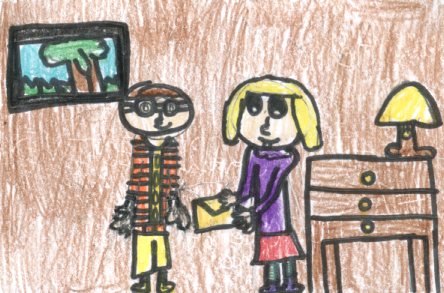 Have you ever read a mystery book? I did! In this book Noelle and everyone in Noelle class are trying to solve a mystery. Noelle and Todd are trying to solve a mystery before Amber Lee because they don't want everyone in Mr. Merlin class think Amber Lee is the smartest. Mr. Merlin gives clues to Noelle's class to figure out the mystery.
I enjoyed this fantastic book because I love mystery books. The second reason I like this amazing book is because I love reading George Stanley books. The reason why I like reading George Stanley are because the pictures are detailed and it "pulls you in" to the book. They are great to read. The last reason, I thought this book was a good read, is because it very interesting.
I highly recommend this great book to kids who really like mystery books. I strongly recommend this good book to read to third graders and fourth graders. Find out what happens!