Where the Wild Things Are
Written by Maurice Sendak
Illustrated by Maurice Sendak
Reviewed by student in The Wizards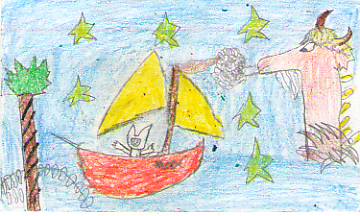 In the story there was a boy named Max. Max is a boy who likes to pretend he's a wild thing in his wolf suit. He took a boat to the Forest and became the King of the Wild Things. When Max didn't want to be King anymore the Wild Things said "Oh please don't go – we'll eat you up." If you don't believe us, read the book.
The book was so-so. The book was fine but we felt it needed more details. We liked the illustrations. They were funny, the monsters were funny, and they matched the story. It reminds us of this boy named Noah who likes to act like a monster.
We would recommend this book to kids who like to play pretend and mothers whose kids like to act wild.