Beast Quest: Ferno the Fire Dragon
Written by Adam Blade
Illustrated by Ezra Tucker
Reviewed by Brian N. (age 8)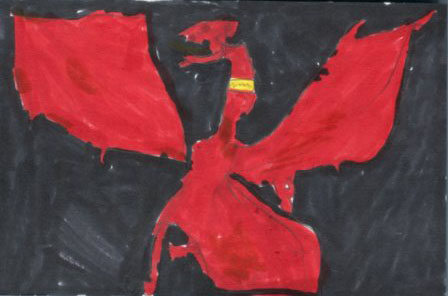 Tom is now a warrior and is sent to unlock the collar on Ferno. He is given a magical key, a horse named Storm who is swift and brave, and a magical map. He is also given a shield and a magical sword. Along the path to the mountain where Ferno loves, Tom meets a girl named Eleena and her wolf named Silver. Tom later saves Silver from poachers and Silver also saves Tom. Now Tom has Silver and Eleena on the journey with him and she is very powerful. Silver is also very fierce but loyal. After following the map's trails, they locate Ferno's mountain and attack him in hope of removing the collar and freeing him from Mavel's spell. You will have to read the book to see if they can free Ferno.
I really enjoyed this book because it was exciting and a little bit scary. My favorite part was when Tom was fighting Ferno and Eleena was about to be hit by the dragon but was saved by Silver. Silver is knocked unconscious by Ferno while saving his friend. This proves that was Silver is very brave and loved Eleena. I also liked the illustrations. The illustrations of Ferno were very well drawn. In my opinion, Tom was very brave and intelligent, and kind of a trickster as shown by his tricking the guards to let him in the castle because he said he was a kitchen delivery boy. I thought this was clever. Like Tom, I like to be a trickster, brave, and would love to own a pet wolf named Silver.
I recommend this book to grades 3 and older because grades 2 and below might find it scary and frightening. Also, who wouldn't want to free a dragon from an evil spell with the help of a friend, a swift horse and an awesome wolf?