The Great Snake Escape
Written by Molly Coxe
Reviewed by Kyle B. (age 7)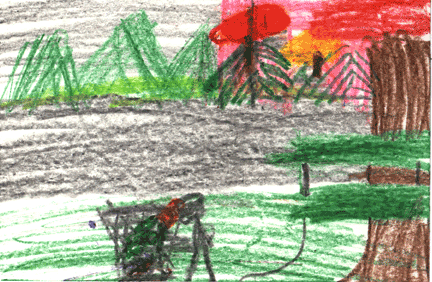 One morning Mirabel was going to her friend's house and she found a newspaper. It said a snake had excaped from the park zoo. Mirabel was scared of snakes. Mirabel went to see her friend Maxie. Maxie was scared of snakes, too. Maxie went to find a newspaper to find out what the snake eats. He found one in the trash can and hopped in to read it but then he couldn't hop out. The garbage truck was coming. Mirabel remember the piece of string she had in her nest but it was to short to get Maxie out. Then Mirabel heard a loud noise and it was a snake. The snake told her not to be afraid. Let's go save your friend. They got Maxie out of the trash can and took him to a safe spot. Maxie and Mirabel took the snake to the harbor and said goodbye.
I like this book because I like frogs. My favorite part was when the frog got stuck in the trash can. I like frogs because they are shiny.
I recommend this book to kids who like frogs, ducks, and silly stuff. I think you should read this book. I remember when I was afraid of ducks.