Lady Lollipop
Written by Dick King-Smith
Illustrated by Jill Barton
Reviewed by Emma S. (age 8)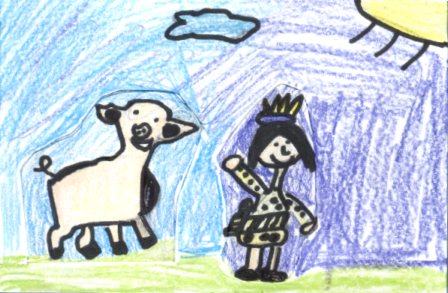 Have your parents ever spoiled you? Well, in the book Lady Lollipop by Dick King-Smith the King and Queen have spoiled their child, Princess Penelope. When her 8th birthday is near she begs for a pig, but her parents think they are stupid, dirty animals. Penelope yells and screams whenever she does not get her way. Her parents always need to give Penelope her way if they don't want a screaming daughter. When her birthday finally comes her father proclaims that every pig keeper in the kingdom needs to bring their pig to the castle at different times. Penelope doesn't like any pig she sees. The last pig she sees is a runt and is different from all the others. That is the one she wants. The pig's name is Lollipop. Johnny, the original owner of Lollipop gets to know Penelope. He tells her she needs to think more about others than about herself because he thinks she is selfish and spoiled. Later on Penelope wants Lollipop to become a palace pig. The Queen still thinks pigs are dirty, stupid animals. Will Lollipop be able to win over the Queen? Will Lollipop and Johnny be able to make Penelope more patient and nicer to others? Read Lady Lollipop to find out.
I like this book because the illustrations help you understand who the characters are and what they look like. I know because Penelope is yelling "I WANT A PIG!!!!!" and right next to the writing is a picture of Penelope screaming and stomping and that really helped me understand what Penelope acts like.
I recommend this book to people who like to read about how animals change peoples' lives. I know because this book is all about how Lollipop changes Penelope and the Queen's lives. If you yell and scream and always get your way, this book is for you because it will change your life just like Penelope.