Judy Moody Gets Famous!
Written by Megan McDonald
Illustrated by Peter Reynolds
Reviewed by Paige M. (age 8)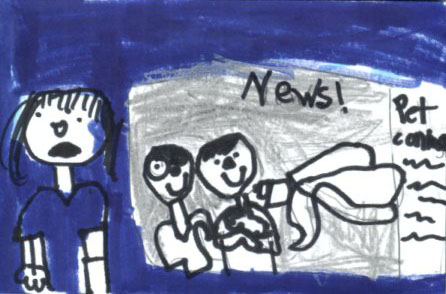 Have you ever wanted to be famous? If you want to be famous then you should read Judy Moody Gets Famous by Megan McDonald. Judy Moody is a girl in 3rd grade and she has many moods. Judy has a cat named Mouse. Judy found a crumpled up piece of paper on the floor in her house. When she un-crumpled the paper it was an advertisement for a pet contest. Judy decided to enter her pet cat, Mouse, in the contest. Her brother Stink helped Judy get the supplies. You must read the book to find out if she won the contest.
I really liked this book because it was hilarious! I loved it when Judy made a cherry pit look like it was George Washington's from when he was a little boy. A little boy named Ricky ate it thinking it was an M&M. Ha ha ha, that was so funny! The book reminds me of myself because one day I would like to be famous. In the story Judy is trying to become famous by entering her pet cat named Mouse in a contest. She thinks if he wins, she'll be in the newspaper. The illustrations in this book are descriptive. For example, one shows when Judy is looking at a memory box and trying to figure out a way to become famous. From this picture, you can really see that she really wants to be famous. These are some of the many reasons why Judy Moody Gets Famous is a really great book.
I recommend this book to second through fourth graders who like books by Megan McDonald, like Stink and Sister's Club. You should read the 8 other Judy Moody books.