Because of Winn Dixie
Written by Kate DiCamillo
Reviewed by Isaac C. (age 9), Pablo A. (age 8), Charles D (age 9)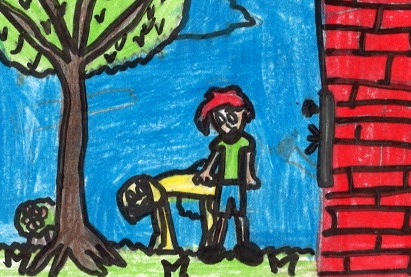 This book is about a ten-year-old girl named India Opal Buloni and a dog named Winn-Dixie. It all started when Opal was going to the grocery store, which was named Winn-Dixie, and came home with a dog. Winn-Dixie and Opal met new friends like Franny Block, Otis, Gloria Dump, and the Dewberry brothers. If you want to meet these people and go on their adventures, then read this book.
We liked this book because Opal and The Preacher kept Winn – Dixie, and that was very sweet. We also liked the book because Winn – Dixie made friends with everyone he met.
I'm Pablo, my favorite part is when Winn-Dixie and Opal meet Otis. Otis is the kind of character that is shy and kind. I made a connection with Otis when he went to the party. Otis was shy at the party, and I was shy on the first day of school, just like Otis.
I'm Isaac, my favorite part is when Opal found Winn-Dixie in the Winn-Dixie grocery store. That's when the story begins. I can make a connection with Mrs. Schimmelpfennig and Mrs.Cormeny, our teachers, because they both love dogs like Opal does.
I'm Charles, I made a connection with Otis because Otis loves animals just like I do. That's why my favorite part of the book is when Otis played music to the animals. This was my favorite part because Otis let the animals be free and come out of their cages and he played the guitar for them.
We recommend this book to anyone who likes to read about friendship. This book should be for third grade and up because third through eighth grade, and even older, can read it and enjoy the many adventures of Opal and Winn-Dixie.