Grasshopper on the Road
Written by Arnold Lobel
Reviewed by Michael D. (age 7)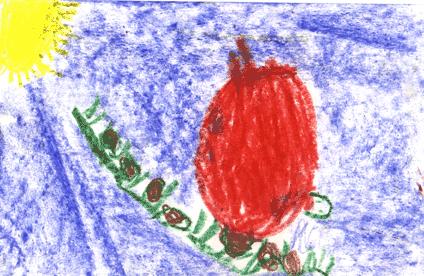 Grasshopper starts walking down the road and sees lots of signs saying Morning is Best. The grasshooper eats on an apple and it rolls away. It's smashed to pieces and a worm losses its home. Grasshopper continues his day. He sees a fly. The fly was cleaning his house. The fly and the grasshopper talk. Grasshopper came to a puddle of water in the road. He found a mosquito in a boat. He wanted to give grasshopper a ride. Grasshopper carried the mosquito and his boat across the puddle. Grasshopper met three butterflies flying in the sky. He saw two dragonflies flying fast. They thought it was sad that grasshopper had to walk. Finally grasshopper fell asleep after his great day.
I like this book because I like grasshoppers. It has good stories. I like books about bugs.
I would recommend this book to my best friend because he likes bugs.