Because of Winn Dixie
Written by Kate DiCamillo
Reviewed by Ashly F (age 9)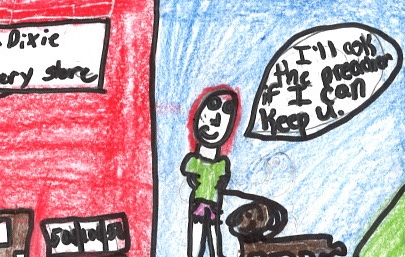 This book is about a girl named India Opal Buloni and a dog named Winn-Dixie. Winn-Dixie got his name from a grocery store. So, this is what happened...Opal went to the store to buy rice, tomatoes, and macaroni and cheese, but she came home with a dog instead of coming back with food. In the middle of the book is when Opal meets Otis, Gloria Dump, Miss. Franny Block, and lots of others. Then, when Opal has a party Winn-Dixie gets lost!!! Read the book to go on all of the adventures Opal and Winn-Dixie go through. Plus, when Winn-Dixie gets lost you have to know if they find him.
Why do I like this book?? I like this book because it has a nice title and because it has a dog. I connect Opal with my teacher Mrs. Schimmelpfennig because they both care for hurt animals. I can also relate Opal with me too, because I also love animals. My favorite part is when Winn-Dixie ate Gloria Dump's peanut butter sandwich. I like this part because it is funny. I can imagine Winn-Dixie getting the peanut butter stuck to the root of his mouth.
I recommend this book to 3rd grade and to people that love animals because this story has a dog in it.