Because of Winn Dixie
Written by Kate DiCamillo
Reviewed by Austin W. (age 9), Chris L (age 9)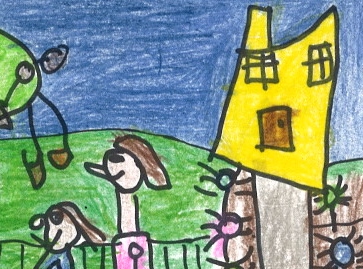 Have you ever moved and felt so alone you had no friends, family, or nothing to call your own? Well India Opal Buloni knew just how that felt until she met a dog who totally changed her life. Opal learns valuable lessons in friendship, trust, forgiveness, and acceptance all because of a dog she called Winn - Dixie. Read the book of Because of Winn - Dixie to find out what happens.
I'm Chris, and I like the book Because of Winn-Dixie because Winn-Dixie took Opal to a lot of places and they made a lot of new friends. My favorite part of the book was when Opal got to keep Winn - Dixie. I can connect with this story because I had a dog that I loved, but he ran away. I relate to Otis the most because he loves animals and so do I. Otis is quiet and kind just like I am.
I'm Austin, and I liked the book Because of Winn-Dixie because Winn-Dixie and Opal made all new friends and meet a lot of new people they didn't know. My favorite part was when Opal first saw Winn - Dixie. She knew that she loved him right away. I can connect to this story because I lost a pet one time and felt real sad. I relate to Winn-Dixie the most because he is adventurous like I am.
We would suggest reading this book to find out what happens. We would recommend this book to people who like animals, people who like adventure and like to meet new people. If you like to read a book with a happy ending than this is the book for you.