Because of Winn Dixie
Written by Kate DiCamillo
Reviewed by Liam M (age 8), Jimmy W. (age 9)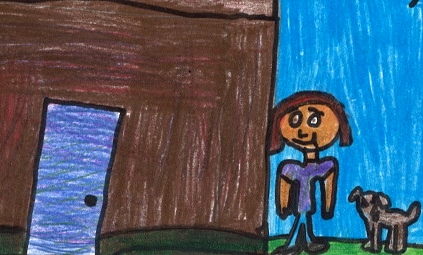 In the beginning of the story India Opal Buloni went to the store to get macaroni and cheese, two tomatoes, and white rice. When she got to the store she say a dog creating chaos in the store. Opal saves the dog, and names him Winn­Dixie after the grocery store she found him in. Winn­Dixie has a secret, and the secret is that he helps Opal meet new friends. So anyway, throughout the story Winn­Dixie and Opal have lots of adventures, and meet new people like Gloria, Miss Franny Block, Otis, Sweetie Pie Thomas, and Amanda. Then something unexpected happens when Winn­Dixie runs away during a thunder storm. Read the book to see if Opal finds Winn­Dixie.
I'm Jimmy, and I liked the book Because of Winn­Dixie because it's a story about friendship between a girl and a dog. An amazing dog that helps Opal get closer to her dad, remember her mom, and make lots of new friends. My favorite part of the story was when Winn­Dixie didn't kill the mouse that was at the church. He was so sweet and careful with the mouse while it was in his mouth. While reading this book, I made a strong connection with Winn­Dixie because I wouldn't want to hurt a mouse either if I caught one. I would let if go and be free too. I think most people will like this book. It has lots of twists, like when Winn­Dixie gets lost. I'm not telling you what happens, but if you like dogs and animals I bet you will like this book. You also might find this book interesting because it has lots of adventures.
I'm Liam, and I like the book Because of Winn­Dixie because it tells a lot about feelings. My favorite part was when Opal and Winn­Dixie met for the first time in the grocery store. Since that was the first time they had ever met, it would be a touching part. I made a strong connection with Otis because I am really shy like Otis is, but really only when I get in trouble. I also relate to Otis because I love to play the recorder in music like Otis likes to play his guitar.
We would recommend this book to Mrs. Schimmelpfennig, our teacher, because she loves animals, and she wouldn't just leave an animal on the street. We would also recommend this book to anyone who is eight years or older because they will be old enough to understand the feelings and all the big words that goes with those feelings. How important it is not to give up on something that you really really love.