A Mouse Called Wolf
Written by Dick King-Smith
Illustrated by Jon Goodell
Reviewed by Asa M. (age 9)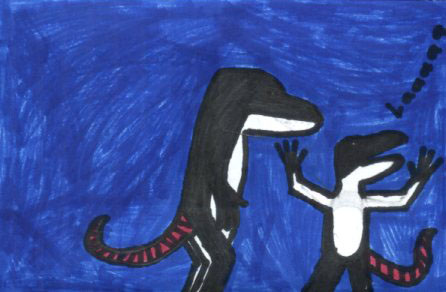 Have you ever thought of naming someone after the composer Wolfgang Amadeus Mozart? Well, in the book, A Mouse Called Wolf by Dick King-Smith, Wolf is a very little mouse. He always gets picked on by his siblings because he is so small and has a funny name. They also pick on him because they think he is their mother's favorite. You may think Wolf is puny and cowardly because of his size but actually, Wolf is brave and adventurous. I know Wolf is adventurous because in the book, Wolf travels to the top of the piano to sing for Mrs. Honeybee. I know Wolf is brave because in the book, Wolf makes a brave choice to save him and his mother from Mrs. Honeybee's cat in a very dangerous way. If you want to find out if Wolf succeeds, you must read the book!
In my opinion, this book is funny and sad. It's funny because Mrs. Honeybee talks to herself. She always calls herself "a ridiculous old woman". Another reason it is funny is because Wolf's mother gluts herself on chocolates. It is sad because Mrs. Honeybee breaks her ankle and has to go to the hospital. Then no one is able to feed Wolf and his mother chocolates when Wolf sings. Wolf's mother reminds me of my mother. For example in the book Miss Honeybee gives Wolf and his mother chocolates and Wolf's mother is feeling scared about it. My mother also doesn't like strangers offering me candy. And that's why I enjoyed reading this book.
I recommend this book to kids who like animals because this book is about a special mouse. I also recommend this book for 3rd and 4th graders. This book would also be a good read aloud or to listen to the audio book for kindergarten through 2nd grade.