Lucy's Tricks and Treats
Written by Ilene Cooper
Illustrated by David Merrell
Reviewed by Quinn L. (age 8)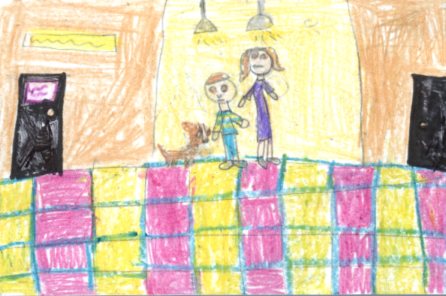 Have you ever heard a story called Lucy's Tricks and Treats? In the story, Bobby has a dog named Lucy and it is almost Halloween. Bobby and Lucy are excited. Bobby wants to buy Lucy a pirate costume but Mr. Quinn does not want to buy the costume. He says that Lucy is too squirmy. Bobby puts the costume next to Lucy. Mr. Quinn sees that she likes the costume so he buys it. In Bobby's class, his teacher Mrs. Lee assigns Bobby, Jack, Candy and Shawn a report about Pal Revere. Bobby wants to bring Lucy's costume to school for Show and Tell, but, Bobby loses the costume! Someone helps to find the costume. Read the story to find out what happens.
I like this book because it is mysterious and it makes me happy. In the book Bobby wonders what happens to the costume. He does not know where the costume is but he really wants to find out. The book makes me happy when Lucy puts on the costume. Even though she's not happy with the pirate costume, I think it's cute. The illustrations in this book are really descriptive. For example there's a picture of Shawn dressed up as Paul Revere since they are doing reports on him. The picture shows he is proud of himself. This is what makes Lucy's Tricks and Treats a great book.
I recommend Lucy's Tricks and Treats for second through fifth graders. If you like a mystery, then this is the book for you. There are also more books in this series.