The One in the Middle Is the Green Kangaroo
Written by Judy Blume
Illustrated by Irene Trivas
Reviewed by Evan K. (age 9)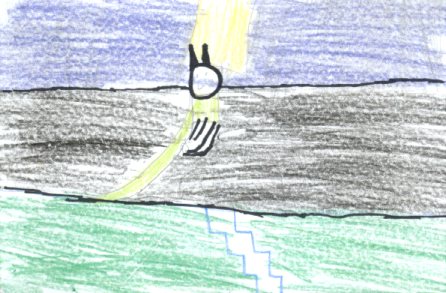 Freddy is the one in the middle. He has an older brother named Mike and a younger sister named Ellen. Freddy gets all his brother's hand me downs and when Ellen was born Freddy had to move into Mike's room. When Freddy wants to play with Mike, he usually tells him to get out of the way. When Freddy wants to play with Ellen, she doesn't understand how to play his way. Freddy is caught in between Ellen and Mike. One day he sees a sign for the school play. This is something his sister and brother haven't ever done. Freddy gets the lead role! Read the book to find out if the play goes well or not and if it makes him feel better.
I like this book because Freddy takes a risk. In the story Freddy tries out for a play for the first time. And he also gets the lead role. He dresses up as the green kangaroo and he has to practice jumping in order to be the green kangaroo. Freddy reminds me of myself because one time I took a risk like Freddy and decided to go on a zip line. Like Freddy I had fun trying something new. The pencil sketch illustrations by Amy Aitken help the reader understand the book. For example one picture shows Mike trying on his new clothes and Freddy looks jealous because he is getting all of Mike's hand-me-downs.
I recommend this book to 2nd to 3rd graders who are middle children and need help so they can work it out. I would give this book five out of five stars because it's a great book with great characters.