Groundhog Day From the Black Lagoon
Written by Mike Thaler
Illustrated by Jared Lee
Reviewed by Nicholas P. (age 9)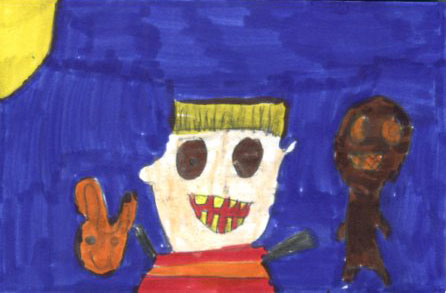 Did you read Groundhog Day from the Black Lagoon? If you like silly stories from the Black Lagoon adventure series, you should read this book.
In the beginning of the story a boy named Hubie finds out he and his classmates will be doing a morning news show. He is going to be the anchorman, but is upset because it's Groundhog Day. Even though he thinks it's silly, he has to learn more about it and he even has a nightmare. The whole school gets excited about it. The morning of his broadcast he watches TV while eating his breakfast. He waits to see if the groundhog will come out. Read the book to find out if Punxsutawney Phil will come out of his hole and how Hubie's broadcast goes.
I really like this book because it is funny. For example in the story there is a chapter called, "Hogzilla." It tells about a funny nightmare that Hubie has before his broadcast. In it he was reading the news and the weatherman came out, but he was an enormous groundhog. He destroyed part of the playground and picked Hubie up. Hubie says, "I guess we're in for six more weeks of winter." Hubie is a really funny character. In the story he likes to play with his dog Tailspin. He does an experiment to see if Tailspin will do the right thing 39% of the time, like the groundhog. The illustrations by Jared Lee and the captions are funny. For example there's a picture of Mrs. Mumbles showing Hubie how to do jaw-stretching exercises. Even his do Tailspin has his mouth open really wide!
I recommend this book to 3rd to 5th graders because it is funny!